The Generative AI Infrastructure Landscape by Segmind
Dive into the Generative AI Infrastructure landscape and explore what traditional tools have been customized to meet Generative AI's needs. Plus, get a look at emerging startups building infrastructure.
Generative AI infrastructure is quietly powering application companies to reach greatness with Generative AI.
Similar to picks and shovels sold to gold miners during the gold rush Generative AI infrastructure companies are powering application companies to achieve rapid innovation and value unlock with Generative AI use cases.
However, it pays to know the tools that will help you and your enterprise create value with AI. This is why we have scoured the entire Generative AI landscape to help you find the tools you need.
Mapping the Generative AI landscape

As we see it, the Generative AI landscape can be divided into five core areas: Compute, Data, Training, Inference, Recommender Systems, and Platforms. The landscape includes traditional tools that have been customized to meet the needs of Generative AI. In addition, there are emerging Generative AI startups building infrastructure specifically to meet the requirements of Generative AI.
From our perspective at Segmind, the Generative AI infrastructure landscape will experience the rapid creation of dozens of new startups. These startups will be built for the specific requirements and complexities of Generative AI use cases that existing infrastructure companies either do not service or do not service very well.
On the other hand, some of the companies currently focused on Generative AI infrastructure will see rapid adoption and success because they are in the market first or near first and have the right market timing to address the existing pain points Generative AI teams are currently experiencing.
How Generative AI infrastructure will evolve

Generative AI infrastructure has a parallel to the now mature MLOps space that over the past eight years witnessed the rapid creation of startups that became multi-billion dollar scale-ups like Scale.ai, Weights & Biases, and Dataiku. At the beginning of MLOps, only a handful of companies existed with minuscule amounts of revenue generated from the space as a whole. Currently, it is likely that most existing and new Generative AI infrastructure startups are under $10m in revenue except for a few outliers, but not for long. By addressing the specific needs of Generative AI application companies across the five core areas listed in our landscape, some of the startups identified in the Generative AI infrastructure landscape will experience explosive growth.
Segmind is seeing that Generative AI startups are choosing to buy rather than build their capabilities across all six categories in the Generative AI infrastructure landscape. Additionally, we are seeing that much of the growth in Generative AI use cases are still ahead of us, indicating that the implementation of Generative AI infrastructure is still in its early stages.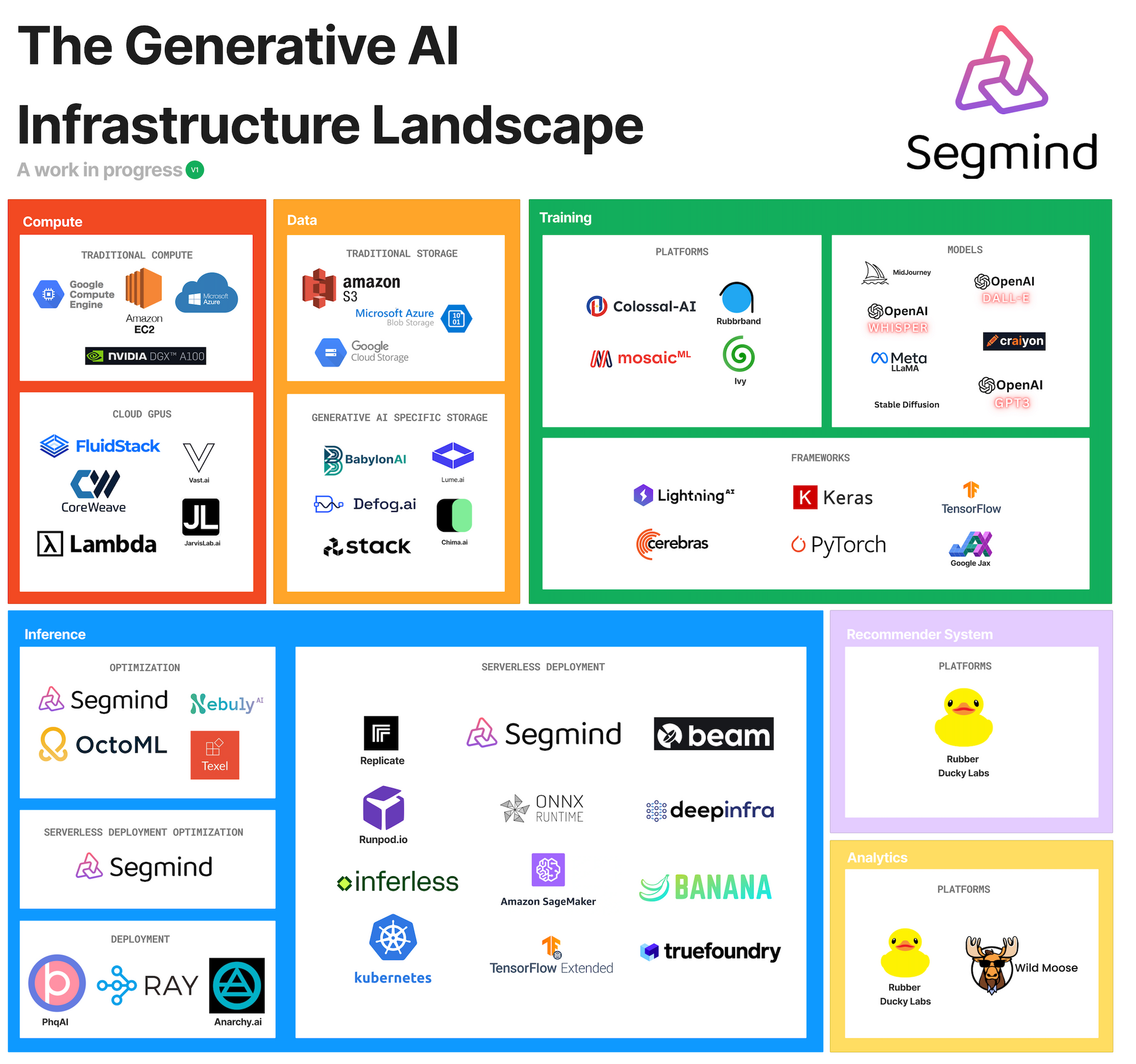 Description and links of Generative AI Infrastructure companies highlighted
Compute
Traditional Compute
Cloud GPUs    
Data  
Traditional Storage
Amazon Simple Storage Service (Amazon S3)               An object storage service offering industry-leading scalability, data availability, security, and performance.
Microsoft Azure Blob Storage helps you create data lakes for your analytics needs, and provides storage to build powerful cloud-native and mobile apps.
Google Cloud Storage lets you store data with multiple redundancy options, virtually anywhere.
Generative AI Specific Storage  
Training  
Frameworks  
Inference  
Optimization
Serverless Deployment
Serverless Deployment Optimization
Segmind                                Serverless Optimization Platform For Generative AI. The first serverless optimization platform that increases inference speed by up to 5x for Generative AI.
Deployment
PYQ                                Pyq is an easy and affordable way to integrate machine learning into your application. We help developers skip all the cloud infrastructure and setup, and get straight to the most important part: leveraging ML in their apps.
Ray.io                                Open-source unified compute framework that makes it easy to scale AI and Python workloads — from reinforcement learning to deep learning to tuning, and model serving. Learn more about Ray's rich set of libraries and integrations.
Anarchy.ai                              AGIs for your APIs: Infrastructure for customizing LLMs with agency
Recommender System
Rubber Ducky Labs                         Better recommender systems with machine learning plus human expertise
Analytics
Rubber Ducky Labs                         Better recommender systems with machine learning plus human expertise
Wild Moose Jobs
Helps on-call developers more quickly identify the source of production incidents. We do this by providing a conversational AI trained on their environment. The LLM-based AI is tailor-made to accurately answer questions about production information such as logs and metrics.

Thank you for reading we will provide updates on the Generative AI Infrastructure as the space evolves. Follow us for more updates on Generative AI!